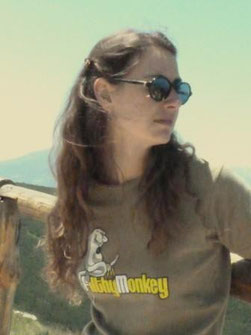 Gergana Dimitrova
Theatre Director 
Graduated at Cultural Studies at Sofia University "St. Kliment Ohridski", Directing at The Ernst Busch Academy of Dramatic Art in Berlin and at NATFA "Krastyo Sarafov".
Since 2006 she has been working as a freelance director in Bulgaria in Germany. She translates from German mainly contemporary dramaturgy, owns authorship to several theatre articles in German and Bulgarian editions, several dramatic texts and two plays.
Gergana is the founder and chairman of the Association for Contemporary Alternative Art and Culture "36 Monkeys" and co-founder and active member of ACT - the Association of Free Theatre.
She participates in a number of local and international forums, seminars and festivals, winner of two awards "Icarus" 2012 – for dramaturgy (together with Zdrava Kamenova) and directing and directing of the play "PO BOX Unabomber", co-production of "36 Monkeys".
The main focus of her work until now have been contemporary dramaturgy and new theatre forms. She's interested in the dialogue between theatre and science, in the interdisciplinary approach in theatre and in cultural policies in the field of independent performing arts.
She loves drink cold beer in the evenings, sleeping outside, traveling, eating salad, seafood and home-made lyutenitsa, but not simultaneously.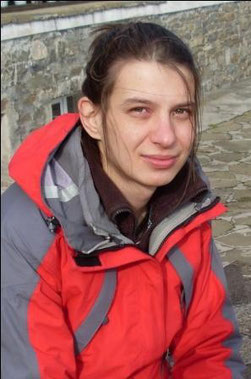 Elena Shopova
Scenographer
She graduated Scenography and Costumes at the National Art Academy, Sofia in 2007. In 2009 she graduated at Digital Scenography and Animation masters' program.
Interested in theatre, drawing, painting, 3D animation and visualization. She is active in the field of scenography and design of theatre, film and TV productions.
In 2007 she participated in ProText – the pilot project of "36 Monkeys" Since then she's been working with the organization.
Her work includes scenography, costumes and multimedia projects as: "Quark Time"; "PO BOX Unabomber", "Nordost"; "It's a Short Life"; "Eva Bechstein", "Stories of Natural Madness"; " The Tunnel Warriors"; "The Boy Through the Window" – a documentary about the artist Ivan Nenov; "Survivor – Cambodia", etc.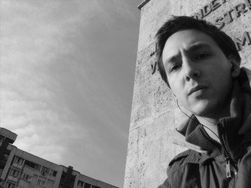 Petko Stoyanov (member from 2010 till 2016)
Theatre Director 
Graduated at Directing for Dramatic Art at the Arts University – Iași, Romania in 2011. His diploma work is the unconventional space performance "A Little Play for the Nursery" by Yana Borisova.
In 2009 and 2010 he is one of the organizers of the second and the third edition of the International Student Theatre Festival ContemporanIS in the city of Iași.
In 2010 he is an assistant-director and director of photography in the project by "36 Monkeys" – "ProText 4: Made in Bulgaria". In 2011 he is an assistant-director for the performance "PO BOX Unabomber" by Gergana Dimitrova and Zdrava Kamenova, directed by Gergana Dimitrova.
In 2012 he makes his directing debut with the miniature "Reya" within ProText 5" ON TIME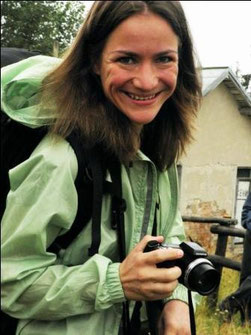 Vasilena  Radeva (member until 2015)
She graduated Theatre Directing at NATFA "Krastyo Sarafov". Since then she's directed the performances "Vampire" by Anton. Strashimirov (3 "Icarus" nominations; "Sisters" by Lyudmila Razumovska; " The Tunnel Warriors" by Don Duyns – an independent theatre project; "The Ugly One" by M. von Mayenburg; "The Little Prince" by Antoine de Saint-Exupéry – an independent project; "Nordost" by Torsten Buchsteiner; "Carnaval.com" by Jordi Galsaran; "It's a Short Life" by S. Stratiev; "In Cold Blood" by Zdrava Kamenova.
She's been part of many theatre seminars, forums and festival in Bulgaria, Germany, Israel, America. She's won the "A'asker" 2011 award for best new-comer and the "Icarus" 2011 award for best performance.
Vasilena has always been a "monkey" – in 2007 she officially admitted this fact by becoming the director behind "36 Monkeys". She was a director in all editions of ProText –the pilot project of the association – until the present moment.
She's one of the founders of ACT – Association for Independent Theatre and is committed to the present activities of the Association.
Theatre is the biggest challenge in her life and her goal is the keep up the adventurous spirit in all her theatre endeavors. The personal meetings between two souls as well as between the soul and an idea inspire her. She also inspired by Scandinavian and Italian cinema. She loves riding her bike in the mountain, drinking beer with friends, communicating with children, laughing and traveling.