THE LITTLE PRINCE by Antoine de Saint-Exupéry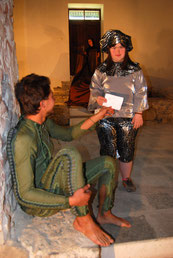 A social theatre project with the participation of people with disabilities
The tale of the Little Prince – a story of a child, who leaves his small isolated world to look for a friend – becomes a personal theatrical journey for children and adults with disabilities.
The project's team:
Director: Vasilena Radeva
Management and costumes: Ina Tserovska
Musicians: Alexander Daniel and Konstanin Kuchev
The actors in the play are from the Children's Shakespeare Theatre School "Petrovden" at the school in the village of Patalenitsa, from the daycare centre for children with disabilities "Vyara, Nadezhda I Lyubov" as well as from the daycare centre for adults with disabilities in Pazardzhik.
"The Little Prince" is a performance and a meeting at the same time. It is the result of two months of mutual getting to know each other, intensive communication and theatre work on Exupéry's text in a group of theatre practitioners and children at risk.
The most valuable artistic and social achievement of the performance is the fact that both the children and the adults with disabilities, participating in the performance, do not evoke pity, on the contrary, one admires and truly enjoys the artistic quality of the play.
Premiere: The Ancient Medieval Church "St. Dimiter", the village of Patalenitsa, Bulgaria, 2009
The performance was staged in 11 Bulgarian towns.
The play is part of the project "School-theatre-life" of the "Help for Children at risk" Association, with the financial support of the "Tulip" Foundation and the Ministry of Culture.
Premiere: the village of Patalenitsa, Bulgaria, 2009
GALLERY