The Tunnel Warriors by Don Duyns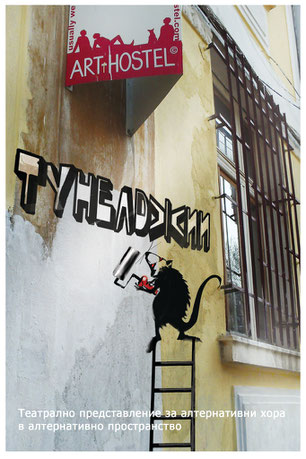 …like a little boy, who digs eagerly with his hands in the sand
Two tunnels at the same time, until at last his fingers meet under the ground and the tunnel is ready.
That's how the mighty tunnel warrior has made dozens of tunnels under the sand, until at the end of the day the sea washes all over everything again.
The project's team:
Director: Vasilena Radeva
Cast: Marin Geraskov, Vyara Tabakova, Yulian Petrov and Yulian Rachkov
Musician: Konstanin Kuchev
Stage, costume and video design: Elena Shopova
"The Tunnel Warriors" is a performance, born out of the desire to say things, which are not pleasant to hear, but need to be heard…most probably. We want to put a text at display, which is not to be displayed…..but needs to be displayed…most probably. To make theatre there, where no theatre is to be made, but things need to happen…most probably.
This is a performance about the freedom to be smashed down because of your ideals or to smash down your ideals in the name of even greater ideals, such as life itself, for instance. And what about love?
Premiere: Sofia, Bulgaria, 2009
Realized at the gallery of Art-Hostel ("Angel Kanchev" St. 21A) in 2009
In 2010 the performance becomes part of the "Nikolay Binev" Youth Theatre repertoire.
Partners of the project are: Sofia Municipality and The Transport Workers' Union Culture House – Sofia.
VIDEO