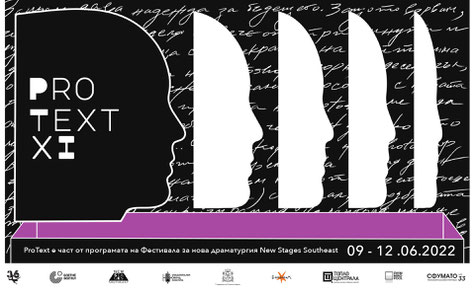 The eleventh edition of the 36 Monkeys' ProText platform will take place from 09 to 12 June. For the past two years, ProText has been a module of the Goethe-Institut's New Stages Southeast International Festival of New Playwriting.
This year, ProText will present three Bulgarian plays, selected from a total of 51 theatre texts by the Bulgarian committee of the international network for contemporary dramaturgy and translation - EURODRAM. The authors selected in 2022 from Bulgaria are the tandem Boyan Ivanov/Alexey Kozhuharov, Ekaterina Georgieva and Stefan Krastev. The fourth play is among the proposals for EURODRAM's 2021 translations. Two of the theatre texts will be presented as complete performances. The audience will be able to see USER by Boyan Ivanov and Alexey Kozhuharov on the first day of the opening of the festival - 9 June at 7:30 pm at the Heat Centre. Stefan Krastev's play "A Short Play About Love" is already part of the repertoire of Ivan Radoev Drama and Puppet Theatre in Pleven. Its director is Hovhannes Torosyan and in Sofia it will be seen for the first time on 10 June at 19:00 at the Sfumato Theatre.
The other two titles from the programme will be shown in a special performance-reading format developed by ProText. The play The Blue Wagon, by the renowned Estonian contemporary playwright and writer Andrus Kivirjahk, will be directed by Blagoy Boychev at the Swimming Pool on 11 June at 18:00. The last performance of the Festival and the ProText platform is "Free Fall" by Ekaterina Georgieva, which we will see on June 12 at 8:15 pm at the Toplocentrala.
--
The project is realized with the financial support of the National Culture Fund. 
The event is supported by Sofia Municipality. 
ProText 11 is in partnership with Goethe-Institut, RCCI "Topocentrala", TR "Sfumato", Swimming Pool and Eurodram.
PROGRAM of ProText 11
The full programme of the New Drama Festival New Stages Southeast 
:: 09.06. | 19:30 | TOPLOCENTRALA, Hall 2 (Black box)
USER
text by Boyan Ivanov and Alexey Kozhuharov
directed by Boyan Ivanov
performance
photos by Iliyan Ruzhin
At the center of the show is the ordinary person with the new dependence on the black screen - on the smart phone, on the computer. With a sense of humour, some of the most immediate themes of our everyday lives revolve around the protagonist. How long can we go without looking at our phones for messages? Can we emerge victorious in the battle with the web's algorithms? The paradox of the selfie, and ultimately one of the most pressing questions of the social networking age - who are we taking a selfie for? Before, people only took selfies on important occasions. Albums of a time captured the important moments, but now we photograph everything and don't go back any more, except to transfer the photos from an older to a newer medium. 
In a series of scenes, played out now on the principle of stand-up comedy, now as sketches, the protagonist moves associatively through various situations in which family and friendship relationships are examined with self-irony refracted through the "black screen". 
The show ends at the point where it began jokingly, but after all the comic situations, returning to the beginning doesn't sound as fun - watching things happen to us through a phone screen is as paradoxically funny as it is dramatic.
Boyan Ivanov is a director and author, graduated in directing from prof. He is a graduate of the University of Music and Performing Arts - Frankfurt am Main. He is the author of several plays, produced in Bulgaria and Germany, as well as theatre texts and scripts for his original performances.
Alexey Kozhuharov holds a BA in Acting and an MA in Directing for Drama from NATFA, with artistic director prof. Zdravko Mitkov. He has experience as an actor, director and scriptwriter, playwright for cinema, television and theatre.
Boyan Ivanov and Alexey Kozhuharov started their joint work with the performances "From Inside" and "Mission Othello" at the Plovdiv Drama Theatre. Yuzer is their last and longest collaborative project. Work on it lasted almost two years, with Boyan Ivanov directing the performance based on the text and Alexey Kozhuharov playing the central role.
---
:: 10.06.| 19:00 ч. | Sfumato Theater
A SHORT PLAY ABOUT LOVE
by Stefan Krastev
directed by Hovhannes Torosyan
with Sergey Konstantinov
Drama-puppet theatre "Ivan Radoev", gr. Ivan Radoev Pleven 
performance
photos by Tihomir Hristov
An intimate night with a random stranger who disappears in the morning. The protagonist searches for her, tries to learn something about her, but in searching for her, rediscovers himself in a new light. An inspired and desperate man of art, he creates his creations, and his love, self-knowledge, and awareness move to higher and higher levels as time goes on. He wanders and never stops searching for it, even when he has built his happiness, which he risks. "A Short Play About Love" is a mono-play about eternal aspirations, about love even in its absurd variants, about strange people in a typical reality. 
Stefan Krastev (Asenovgrad, 1969) mostly writes in the genres of science fiction, fantasy, anti-utopia, thriller. He studied theology. He lived and worked in different places, changed dozens of professions. For 13 years he has been living and working in Pleven, in the Drama-puppet theatre "Ivan Radoev". He is the author of more than 30 printed and electronic books, mainly fiction, including the collections of short stories "Frenzy and Roses", "Sinful and Meaningless"; "Dumb World", "Face Farm", fantasy novels "The Barcode of Sisyphus", "Before the Flood", "The Masks", etc. He is also the author of a collection of four plays. The Invisible Stage". For many years he was a columnist in the literary website "The Letters" , Pleven weekly "BG Sever" and others. 
---
:: 11.06. | 18:00 ч. | Swimming Pool
THE LIGHT BLUE WAGON
by Andrus Kivirähk (Estonia)
Translation Ivaylo Zlatkov
Directed by Blagoy Boychev
assistant director: Tsveta Ermenkova
Participants: Vasil Chitanov, Bogdan Kazandjiev, Nedyalka Raeva, Alexander Uzunov, Kostadin Zhekov
performance-reading 
photos by Iliyan Ruzhin
The Light Blue Wagon, a play by Estonian contemporary playwright, writer and journalist Andrus Kivirähk, is one of the most acclaimed and successful dramatic texts in Estonian literature. It is super-comic and in the author's unique ironic style. Through the prank-types and absurd mise-en-scenes, Kivirähk subtly cuts through the layers of Estonian mentality and contemporary Estonian society in their absurd essence. "The Light Blue Wagon" is a play about the author's generation, which was just over 30 at the time of its publication and staging in 2003, and about his delusional nostalgia for Soviet times, caricatured and absurd in a characteristic way. The play addresses many relevant contemporary issues through familiar references to totalitarian and post-totalitarian times. A text that, although written 18 years ago, sounds very contemporary, especially in the former socialist camp. And Andrus Kivirähk's dictum "Stupidity is stronger than wisdom" explains why his plays, and this one in particular, are infectiously funny and especially surreal.
Andrus Kivirähk (1970) is a contemporary Estonian writer, playwright, satirist, feuilletonist, screenwriter and journalist. He is the most popular Estonian writer of the 21st century. A graduate in journalism and a contributor to the newspaper. "An Estonian daily newspaper, Kivirähk is the most diverse, most innovative and most significant figure in contemporary Estonian literature. The author switches masterfully from one style to another, from journalism to drama, short stories and novels, and from children's literature to television and film scripts. Kvirähk is characterised by a specific humour for which adjectives such as "black" and "absurd" pale into insignificance and which can make even the most dedicated reader or viewer laugh. Since 1994, Kivirähk has won nearly 40 awards in Estonia, Latvia and France, and since 1992 more than 20 of his plays and one of his novels have been successfully staged and 12 films based on his scripts have been made. Kivirähk's work has been translated into English, Dutch, Hungarian, French, Danish, German, Russian, Italian, Czech, Lithuanian, Latvian, Slovenian, Bulgarian and other languages, and in 2014 the writer won the French Grand Prize for a Foreign Language Novel for "The Man Who Spoke Snake Tongue".
---
:: 12.06. | 20:15 ч. | TOPLOCENTRALA
FREE FALL
by Ekaterina Georgieva
directed by Trayana Minkova
set designer: Siyana Ventsislavova Peychinova
composer: Julian Stoichkov
Participants: Bogdan Kazandjiev, Ekaterina Georgieva, Elena Ivanova, Neno Koynarski, Stefan Dodurov, Slavena Zaikova
performance-reading 
photos by Iliyan Ruzhin
"Free Fall is a play composed of nine stand-alone stories and eight interludes, united by the theme of a distorted understanding of freedom and personal responsibility. It is set in an alternative present tense. In a world without a common moral compass, the characters' behaviour takes on an absurd character. They will have to suffer the consequences of this unguarded "free fall" and as the heroine of THE DOCTOR in THE CRAZY MAN says, "...we'll all have to grit our teeth and endure what awaits us." 
Ekaterina Georgieva says of her play, "The actions of the characters - 41 (yes, 41) are an expression of some of my personal fears related to the future of human beings, the decline of their moral and spiritual foundations, their deformities and loss of identity. Sadly, some of my intuitions about these problems have come true in the time between the writing of the play-January 2021-to the present-March 2022, which only amplifies my anxieties."
Ekaterina Georgieva was born in 1989 in Burgas. She graduated from NATFIZ in 2013 in the class of Professor Ivaylo Hristov. A year after her graduation she joined the troupe of Drama Theatre "Stoyan Bachvarov". Since 2017 he has been in the troupe of the Satirical Theatre "Aleko Konstantinov". She played roles as Madame de Tourvel in "Dangerous Liaisons", dir. Stelan Petrov; Woman in "Elevation", directed by prof. Ivan Dobchev; Grusha Vakhnadze in "The Caucasian Chalk Circle", directed by prof. Ivaylo Hristov and others. On the independent stage she has participated in such performances as "Welcome to Bulgaria", dir. Gergana Dimitrova; "Freakshow", dir. Ovanes Torosyan; "Testdrive", an author's mono-performance, etc.  His first play, "The Lucky Man with the Rusty Revolver", will be completed in 2019, followed by "Closeness", "Freefall" and others. In the summer of 2021, he participated in a Playwriting Workshop with Georgi Tenev. He is currently part of the writing team for a new Bulgarian series. 
---